What is the SAP
SuccessFactors HXM Suite?
Offer a digital people experience for your global workforce with cloud-based core HR and Payroll software from SAP SuccessFactors.
The SAP SuccessFactors Human Experience Management (HXM) Suite provides powerful, cloud-based solutions such as a human
resources management system (HRMS) for core HR and payroll, talent management, employee experience management
and people analytics. Focus on employee experience with our open, secure technology foundation.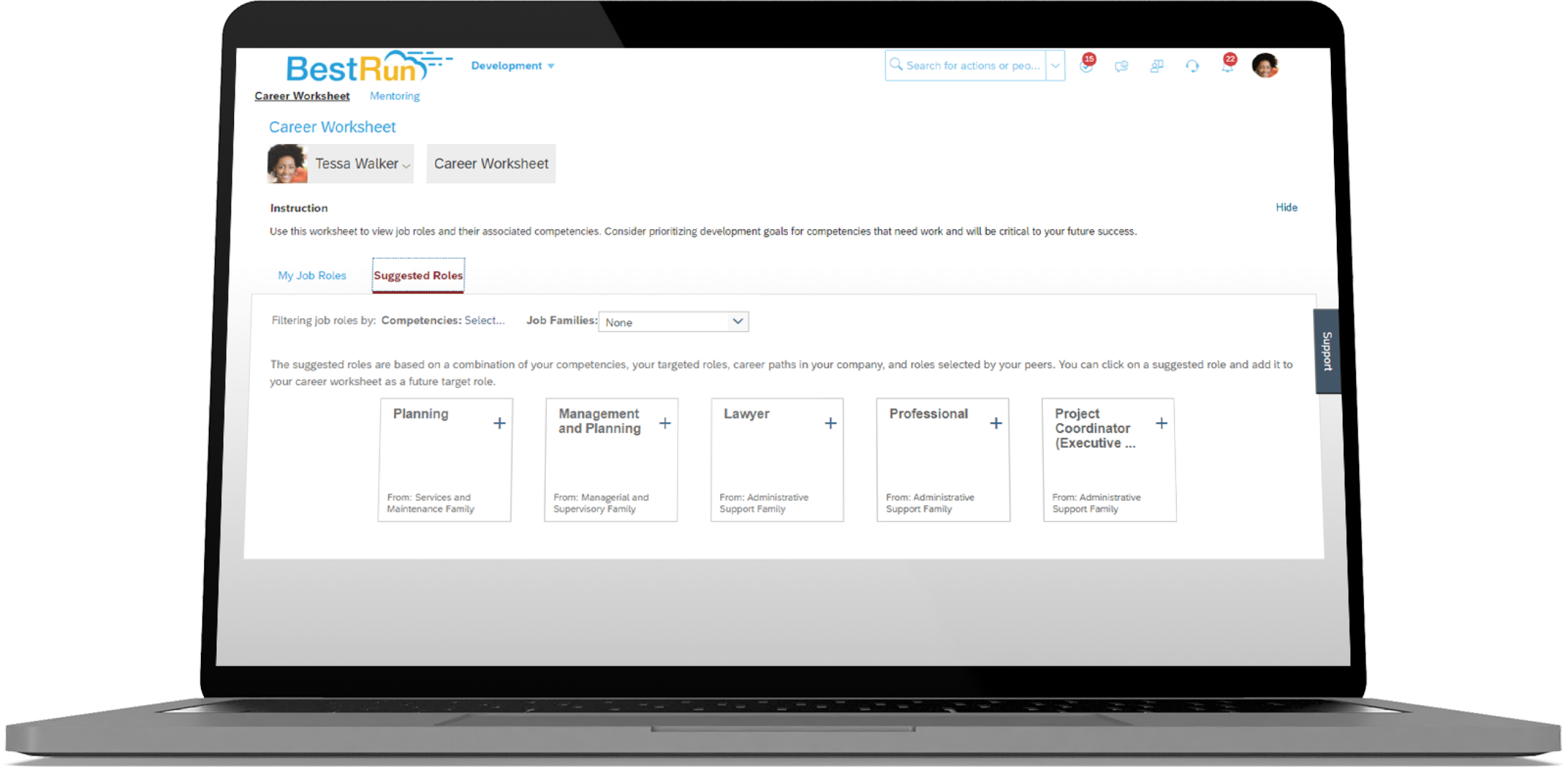 Leverage a powerful cloud HRMS
Intuitive, integrated HR solutions employees need to succeed
Simple, cloud-based software designed with the end-user in mind
Embedded intelligent technologies, such as machine learning
Integrated tools to continuously gather feedback in order to identify and address gaps
Embedded reporting that gives you the insight you need to turn intelligence into action
HxM: The evolution of HCM software
The SAP SuccessFactors Human Experience Management (HxM) Suite builds on our market-leading
cloud HCM software to help you elevate your employee experiences.

Employee Experience
Redefine employee experience by better understanding their needs and wants, ensuring your team feels connected, supported, and empowered.



Support Anywhere
Wherever and however your Team need to work – SuccessFactors delivers a global solution for core HR, payroll, time tracking, benefits admin, and HR service delivery.

Balance Need
Balance the needs of different resources – with powerful HR software for recruiting, onboarding, performance, compensation, learning, succession & development.
Core HR & Payroll Software
Manage a global workforce with flexible cloud solutions for core HR, payroll, time & attendance, and service delivery.
Meet the needs of your people and your business
with a global HR and payroll system
Our extensible solutions can help you manage global benefits and payroll, improve employee self-service, automate HR processes, and strengthen compliance. They can also make it easier to define and execute successful people strategies and to provide information and services that improve the employee experience and add value to your business.

HR Operations & People Data
People, profiles, and transactions
Organisational management
Time and attendance tracking
Global benefits management

Global Payroll
Harmonised cloud payroll
Accurate payroll monitoring
Standardised payroll processing
Connected HR management

Time & Attendance Management
Superb time & absence capability
Advanced Employee Flexibility
Clock terminal integration
Embedded analytics

Streamline HR services
Integrated HR knowledge base
HR ticketing
Embedded HR service analytics
SLA Monitoring & compliance

Centralise Document Management
Simple document management
Centralised document storage
Compliance management
Automated document generation

Intuitive digital workplace
Access everything
Intelligent insights, & actions
Cross-departmental guided experiences
Employee communications channel
Product Overview
Our core HR and payroll solutions allow you to streamline and automate your processes in the cloud. They also include technology
and tools for time tracking, document management, and digital workspaces that all seamlessly integrate on one platform.


People, profiles, and transactions
Apply HR data and practices to standardise processes and transactions, run employee self-services, and simplify compliance management.
Organisational management
Model and visualise your company and use embedded analytics to get real-time insight into your entire workforce.
Time & Attendance tracking
Track time, attendance, and absences for all employees, while automatically calculating employee time and pay.
Global benefits management
Simplify and streamline the management of employee benefits across the globe.
Make people your strongest asset:

Streamline your hiring activities with automated, centrally managed global processes
Put your employees at the centre of the learning experience with highly personalised, customisable, and collaborative training and education
Retain valuable employees by creating clear, compelling career paths
Keep track of employee compensation data with ease
Streamlined time administration
Configure, monitor, and update time management processes with auto-approvals, mass approvals, alerts, and embedded reporting.
Improved employee experience
Provide employees, managers, and administrators with intuitive, personalised role-based access to timesheets from any device.
Controlled labour costs and minimised compliance
Configure systems for corporate and collective agreements and local laws, including break and overtime rules and premiums.
Integrated landscape
Use prebuilt integration to SAP SuccessFactors Employee Central Payroll and import planned working time data.
Integrated HR knowledge base
Provide easy access to your HR knowledge base, enabling self-service and minimising ticket load.
HR ticketing
Route issues to the right agent and provides the information that agents need to resolve issues.
Embedded HR service analytics
Gain insight into employee interactions, common issues, HR bottlenecks, and the quality of the resolutions provided.
Service-level agreement (SLA) compliance
Analyse employee interactions and issues to measure and improve HR service quality with predefined SLA compliance reports.
Streamlined document management
Access and manage documents with a single solution to increase service levels and accelerate responses for shared services.
Simplified access to employee documents
Gain a centralised view of complete employee digital files and use full-text search to locate employee documents quickly.
Compliance management
Support compliance with HR regulations and legal requirements with retention rules and employee file completeness checks.
Automated HR document generation
Use predefined, flexible templates to more easily create personalised employee correspondence.

Data
security
Focus on your business and customer relationships, trusting that your data is safe and reliable. Our proactive, predictive approach helps ensure compliance and data security.

Data protection and privacy
Protect the rights of employees, applicants, customers, suppliers, partners, and others with SAP solutions that preserve data ownership, security, and privacy.

Compliance


Trust that our products meet the latest compliance and security standards, thanks to external reviews and audits, as well as our use of one common framework worldwide.
Transform your business with service support
Evolve your business with SAP Digital Business Services – your trusted adviser for digital transformation strategy and execution.

Simplify & accelerate
your digital transformation
Secure critical business processes on your path to innovation and digital transformation with the holistic, end-to-end service support that reflects over 40 years of unparalleled
knowledge, experience, and innovation.

Transform your business with unparalleled service support
Close the gap between your digital transformation strategy and execution with innovation discovery, digital strategy, and business transformation services from a trusted adviser that knows SAP software best.
Frequently Asked Questions (FAQs)
What's the difference between SAP HXM and SuccessFactors?

The SAP SuccessFactors Human Experience Management (HXM) Suite provides powerful, cloud-based solutions such as a human resources management system (HRMS) for core HR and payroll, talent management, employee experience management, and people analytics.
How does SAP SuccessFactors support payroll and benefits management?

SAP SuccessFactors helps organisations achieve global consistency and improved data quality with centralised global benefits administration. It simplifies operations and delivers accurate payroll with localisation for over 45 countries.
Can SAP SuccessFactors integrate with other HR systems?

Yes. SAP SuccessFactors's extensible foundation allows users to extend their HR capabilities by tapping into the power of SAP solutions and over 300 partner apps.
Does SAP SuccessFactors support recruiting and onboarding?

Yes. SAP SuccessFactors streamlines hiring activities with automated, centrally managed global processes. And new employees get highly personalised, customisable, and collaborative training and education.
Let's Meet Your Challenge Together
Vision33 has been implementing and integrating business systems for growing and midsize companies for more than two decades. Our formal methodology, project governance and experienced consultants ensure that your project goes off without a hitch, allowing you to focus on running your business.
Let's Discuss