Automate the repetitive, daily tasks that slow your business down.
Manual processes bog down critical resources and prevent you from spending time on strategic initiatives that move business forward.
SAP Business One Automations transform manual tasks and processes into automated work flows that prevent costly mistakes and save precious time.
Each Automation delivers specific business outcomes to ensure a strong return on your investment.
Increased process efficiency
Less time spent on administrative tasks
No more mistakes and human oversight
Flawless operations.

No surprises.
SAP Business One Automations are powered by Saltbox. That means it extends SAP Business One's functionality without compromising system performance or generating intrusive client-side pop-ups.

InterCompany for SAP Business One
Multi-entity accounting and reporting can be time-consuming and complicated. Automating intercompany transactions, consolidations and reports prevents mistakes, streamlines operations, and accelerates month-end close.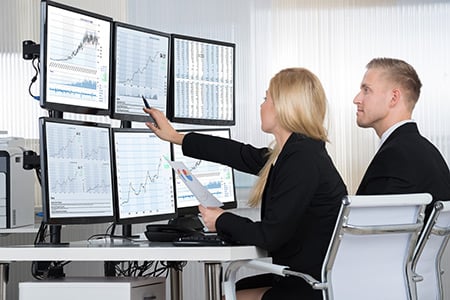 SAP Business One Automation Tools
Automate subassembly work order creation.
Stop creating subassembly work orders manually.

SAP Automation

scans production orders for subassembly components and creates a subassembly work order for each component.

Watch demo

Change work order status automatically.
Keep production cycles moving.

SAP Automation

finds work orders with a "planned" status and changes them to "released" so they can progress through the production lifecycle.
Calculate min max inventory levels.
Never run out of inventory.

SAP Automation

queries the sales quantity history (AR invoices – AR credit notes) of each item over its lead time to ensure proper inventory remains available. An item master UDF defines the min max percentage for each item. Min max inventory levels can be calculated at the item or warehouse levels.
Defer revenue and raise recurring invoices.
Close the books faster.

SAP Automation

automatically accrues revenue and raises recurring invoices on a defined schedule.

Watch demo

Create an invoice for open delivery notes.
Improve cash flow.

SAP Automation

scans for new delivery notes. If found, it will raise an invoice for each.

Watch demo

Automate invoicing for vendor consignment inventory.
Improve cash flow.

SAP Automation

scans for newly created goods issue and good issue for production. If found, it creates a new AP invoice for the items that were removed from warehouse inventory.
Automate liability accruals for non-inventory and service GRPOs.
Adhere to accounting guidelines.

SAP Automation

scans for open service type and non-inventory goods receipt purchase orders (GRPOs). If found, it creates a reversing journal entry that posts an accrual for the open value of the GRPO.
Create pick notes for open orders.
Never miss an order.

SAP Automation

searches for open orders that haven't been sent to pick and checks inventory levels. If inventory is available, it creates a pick note so the order can be fulfilled.

Watch demo

Create a purchase or production order when inventory is unavailable.
Reduce administrative time.

SAP Automation

scans to determine if there's enough inventory to fulfil new sales orders. If an order can't be fulfilled, one of these will happen: (1) for items flagged as "buy," a purchase order will be raised to the item's preferred vendor, or (2) for items flagged as "make," a production order will be created.
Create follow-up reminders for sales quotes.
Close more deals.

SAP Automation

scans on a client-defined schedule for new customer quotes and creates follow-up reminder activities for the account owner.

Watch demo
Terminate service contracts when they reach their end date.
Save time by eliminating manual service contract clean-up efforts.

SAP Automation

scans for active service contracts with lapsed end dates and changes their status from active to expired, eliminating manual data cleansing efforts and preventing service calls from being booked to lapsed contracts.
Invoice open delivery notes when service calls close.
Improve cash flow.
When a service call is closed,

SAP Automation

searches for open delivery notes related to that service call. If found, it generates an AR invoice for the open deliveries and links the invoice to the service call. It also links all open deliveries to the invoice.
Other Integrations and Workflows


Want to integrate or automate something else?
We know integrations, business processes, and SAP Business One like the backs of our hands.
Our certified consultants will dive deep into your business, getting to know your technology stack and processes to develop a groundbreaking, bespoke solution to transform your business.
Connect to any third-party application that has standards-compliant REST APIs
Connect legacy and proprietary solutions with traditional integration methods or the Saltbox API Gateway

Let's Meet Your Challenge Together
Our resources, formal methodology, and project governance provide low risk for projects, free up resources for other initiatives, and give you space to focus on where you're taking your business next.