Section Title

Section Title

Section Title

Section Title

Section Title
Simplify, Streamline and Automate with iDocuments
iDocuments is a browser-based solution that frees your team from manual, tedious tasks and allows your business to focus on innovation and growth.
iDocuments integrates with your existing ERP solution, eliminating the duplication of data and extending the reach of your ERP solution to your entire team – without the added cost of extra licenses.
Purchasing, AP invoice, expenses, sales and self-service HR solutions give you total control of and complete visibility into your entire operations. Best of all, iDocuments is intuitive and easy to use, requiring little if any training.
At the heart of iDocuments is a powerful Advanced Data Capture Engine that automates data processing and becomes a vital part of your business' digital transformation journey.
iDocuments incorporates a standard framework and set of tools that are designed to simplify daily business activities, reduce manual and repetitive tasks, and improve control and visibility.
Take a look at iDocuments' application framework:
Browser-based user interface
A state-of-the-art, browser-based user interface makes the system easy to learn and simple to use so your team can focus on running the business.
Mobile apps
iPhone and Android phone apps allow budget holders, cost centre managers and other approvers to review and approve documents while on the move as well as enter expenses, timesheets and time-off requests.
Seamless finance system integration
One of iDocuments key benefits is its integration with your existing ERP or finance system, which ensures consistent and accurate information and financial management reporting across your entire business
Dashboard
iDocuments incorporates a flexible dashboard that can be personalised for each user. The dashboard provides users with details of tasks requiring their action and operational managers with a rich, accurate and timely view of their area of the business.
Smart Search
iDocuments incorporates an integrated digital document archive with an intelligent Smart Search function, enabling authorised users to quickly locate documents and associated information.
Powerful workflow
The iDocuments workflow engine allows you to define rules for automatic routing of documents for review and authorisation by the correct budget holder or cost centre manager. Out-of-budget requests can be automatically directed to another approval path.
Automatic out-of-office workflow routing
Approvals are automatically re-directed when authorisers are out of the office.
Flexible business rules and application configuration
iDocuments business rules and configuration allow you map the system to your specific business needs, requirements, policies and information sources.
International reach
iDocuments is a multi-company, multi-language and multi-currency solution.
Automated alerts and notifications
Automatic alerts and notifications such as overdue approval reminders cut out bottlenecks.
Audit trail and history
A full audit trail and history of all document transactions is maintained to provide comprehensive visibility and transparency.
KPI and analysis reports
The system is delivered with a comprehensive range of business-ready reports to provide you with real-time information to help you manage your business and help you make better and more informed decisions.
iDocuments Purchasing automates, streamlines and simplifies your entire purchase to pay process, helping you to reduce errors, save time, control spend, and improve cash flow visibility.
iDocuments Purchasing allows you to raise a purchase order, which once approved will post to your ERP solution, generate a purchase order number, and issue the purchase order to your supplier. This seamless flow of information eliminates manual data entry and improves efficiency.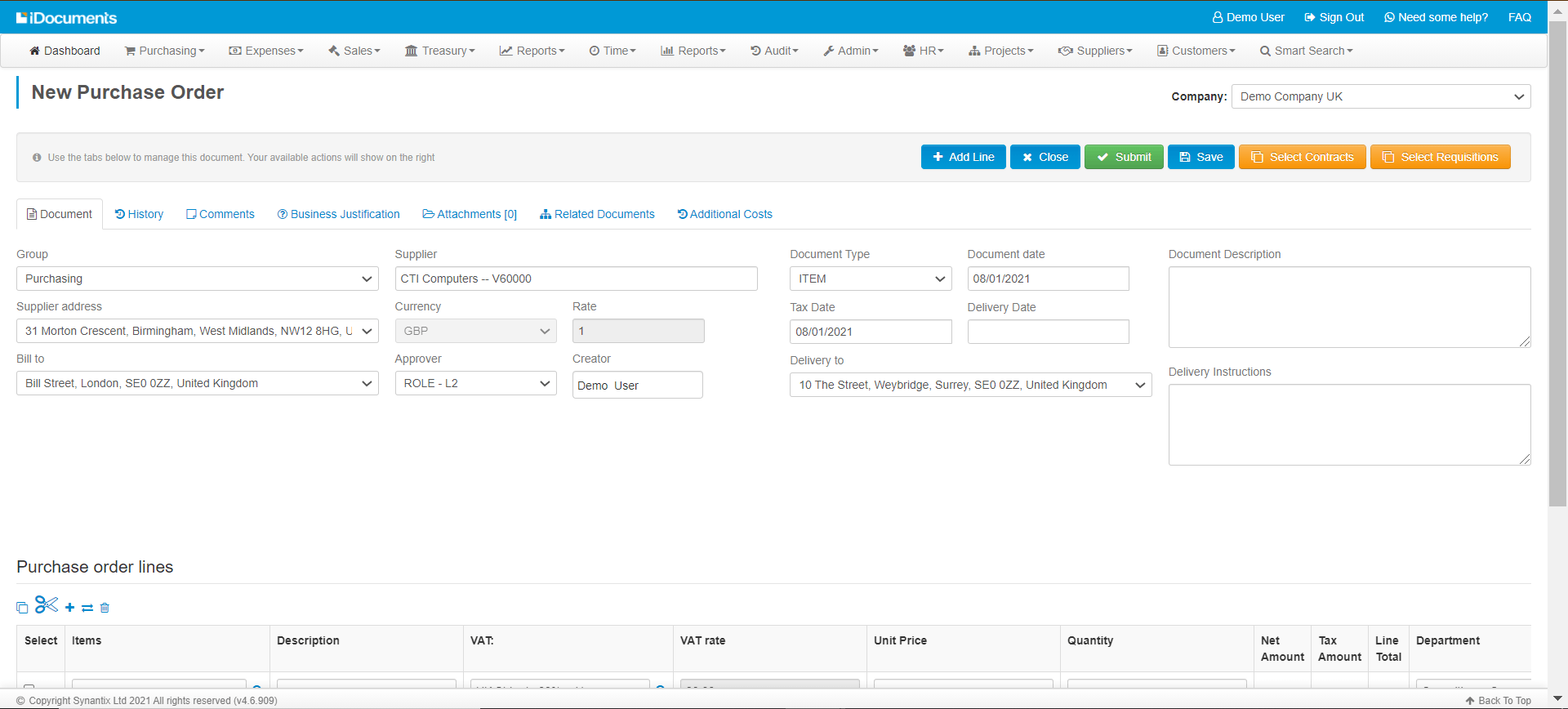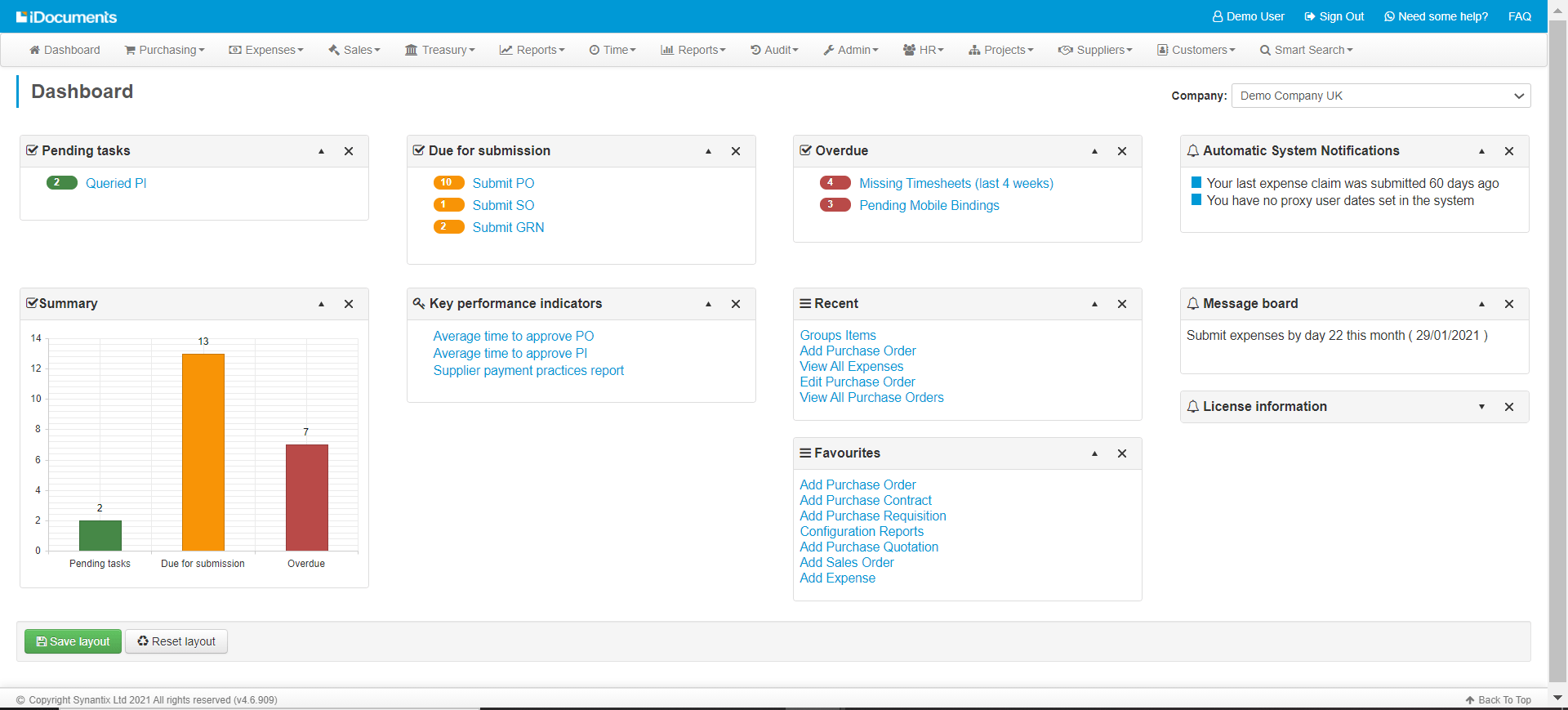 iDocuments Expenses is an easy-to-use web-based and mobile expense management solution that enables expense claim expense claims to be created, submitted, stored, reviewed and approved and audited online.
iDocuments Expenses gives you full visibility into expenses and transactions and allows you to drive an expenses policy within the system, so you can control how much your employees spend and what they spend it on.
iDocuments Sales Order Automation captures emailed orders and processes them with no manual entry. That means you save time, reduce errors, and your sales team can focus on awesome customer service.
With iDocuments Sales Order Automation, you'll never miss or lose an order. Receive customer orders via email and seamlessly create a fully populated sales order ready to review and submit.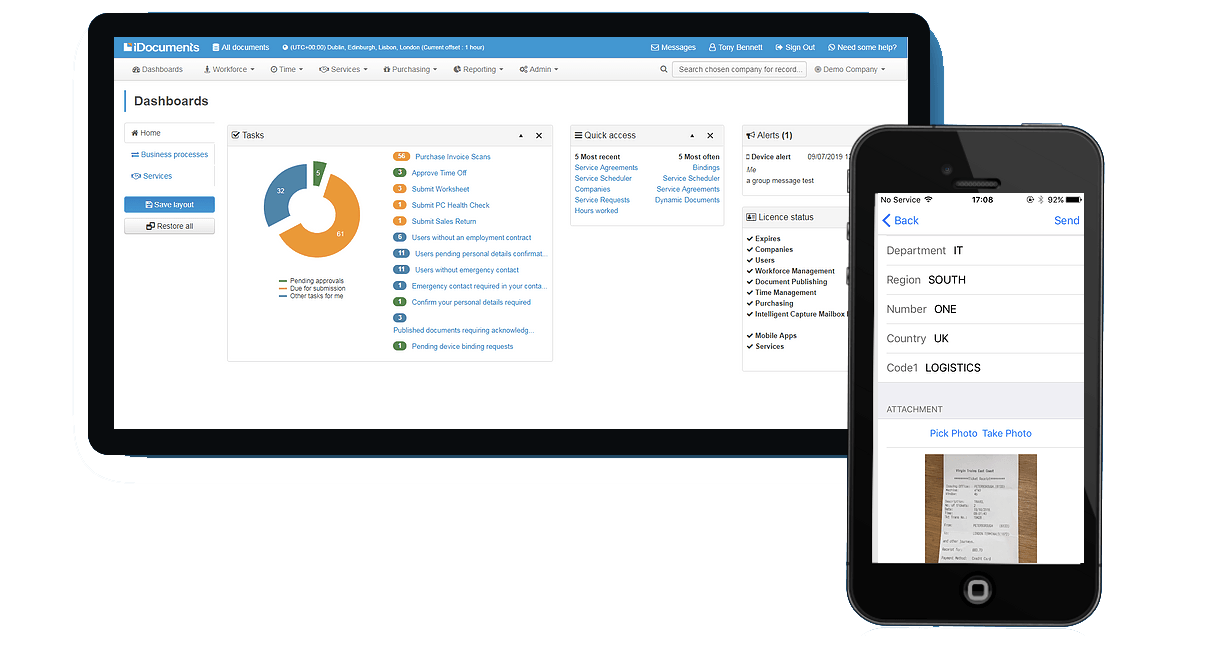 iDocuments works with several popular ERP solutions and accounting systems, including SAP Business One and Sage Intacct. Seamless integration with these systems removes the need for duplicate data entry, saving you time and energy.
This integration also extends the reach of your existing solution to your entire team, maximizing your investment in your existing technology.
iDocuments allows you to simplify, streamline and automate core business processes. That means you can take your team away from the keyboard and out of data processing and focus them on tasks that bring value and revenue to your business.
There are several other reasons why you should consider iDocuments, including:
Significantly lower cost per user than your ERP solution
Enriches your ERP solution and gives your ERP solution more functionality
CFOs will take notice of and appreciate AP invoice automation
Saving time means saving money
Begin your digital transformation journey and become a more resilient business
Turn sales administration into sales development
Increase revenues
Improve customer satisfaction
Eliminate manual data entry
Eliminate paper storage
Ease of use means staff will actually use it