Enterprise Resource Planning Software for Small and Medium Manufacturers
An all-in-one enterprise resource planning (ERP) solution provides accurate, real-time information for small and medium manufacturers. ERP also integrates production, profitability measures, EDI, supply chain management, shipping logistics, and advanced manufacturing capabilities for discrete, process, and project manufacturing.
Challenges

Benefits

Nuts and Bolts

Next Steps

Customizations

Features

Vision33's ERP Services

Manufacturing Operations

Success Stories

Get Started
The manufacturing industry is characterised by rapid changes and fierce competition. Ever-shifting supply chains and multiple routes to market require manufacturers to be agile and ready for changing conditions and opportunities. Your business needs streamlined operations, efficient production processes, and custom real-time information for critical decision-making. It's the only way to gain agility, minimise costs, and win against competitors that rely on cheap labour.
Understanding new technologies and choosing which to adopt in this changing environment can be confusing. A Forbes study found that 90% of businesses recognise the importance of technology, but only 40% believe they have the best tools. As the economy swings wildly, manufacturers must ensure they select technologies that simplify business processes, improve efficiency and productivity, and scale as they grow.
The increased demand from consumers for more personalised products also requires more agility. With more opportunities to perform smaller, customised production runs, manufacturers need excellent visibility into their supply chain, lead time information, inventory levels, production capacity, and delivery capabilities.
There's never been a greater need for the right ERP solution to increase visibility into every aspect of your manufacturing operations and solve your most demanding production challenges.
Critical Manufacturing Business Challenges
Managing bills of materials (BOMs)
Controlling inventory
Managing cash flow
Fending off cheap-labour competition
Accelerating your digital transformation journey
Implementing direct-to-consumer (D2C) channels when appropriate
A poorly managed bill of materials (BOM) leads to inefficiencies and missed sales opportunities. Frequently, each department works with different BOM data, so no one knows precisely where the company stands regarding inventory levels, production lead times, product costs, and other critical information. You cannot quote jobs accurately, ensure delivery dates, or take advantage of new and evolving opportunities with inefficiently managed BOMs.
An ERP solution eliminates BOM information disconnects. It provides a 'single source of the truth' for your BOM data and ensures everyone sees identical information. Your core functions align when all departments have accurate, up-to-date bills of materials, so you can quote projects and lead times more confidently, maximise customer satisfaction, lower product costs, and increase revenue via faster product releases.
Inventory control is challenging for manufacturing businesses. Many manufacturers have poor visibility into supplier inventory, lead times, and other critical data, making it difficult to plan production schedules, maintain inventory levels, and fulfil orders. When manufacturers lack customer-facing data from EDI, it's nearly impossible to synchronise inventory with shipment updates, which leads to double counting inventory items and creates backorders due to unexpected fulfilment delays.
A powerful ERP solution overcomes inventory control issues by leveraging bill of material information as the basis for automated inventory forecasts. An 'Intelligent Forecast' report predicts material requirements by examining previous customer orders and associated BOMs and applying advanced algorithms to recommend future inventory requirements. The BOM report guides your manufacturing process while helping your planners make intelligent decisions. An ERP solution also leverages common EDI interfaces to integrate with eCommerce systems, automatically launching new purchase orders when inventory drops to a user-defined level, ensuring optimised inventory, and preventing stockouts.
Many SMBs must wait 90 days or more to receive customer payments. But because manufacturers need cash to purchase their inventory, many turn to financing, either by loan or factoring. Factoring involves a financial firm assuming your payment risk, so if your B2B customer doesn't pay, your business still receives payment. The downside of loans and factoring is that if you can't provide the financing company with data that supports the viability of the customer orders, the finance company takes a larger fee to account for the higher risk.
The right ERP solution helps you get paid faster and have more cash available to keep operations going. With digitised customer information, you can quickly aggregate data supporting your customer/order viability claims. Knowledge of customer, order, and SKU details and projected costs, revenue, and time lines lead to lower loan rates and factoring fees.
Competing against manufacturers operating in lower-cost labour markets requires you to find innovative business practices to avoid competing on price. However, your products facing off against foreign, low-cost competitors no longer means the end of your business.
A robust ERP solution helps manufacturers reinvent their business models. Rather than competing on the cost per unit produced, they become higher-value-add businesses. They add new channels of distribution and sales, expand sales territories, open additional warehouses, tap into CRM, and offer more services. ERP provides the standardisation, controls, and integrations that enable your organisation to shift its operations and overcome challenges. Vision33, as your local expert, will map your existing business processes and recommend how to improve the efficiency, work flows, and reporting that will benefit your business as you define your new identity.
Digital transformation is making your business run better by using technology to create new—or modify existing—business processes, culture, and customer experiences to meet changing business and market requirements.
Vision33's Saltbox Platform for integration and work flows provides the pathways to add new systems and processes and modify existing processes for greater flexibility and agility.
When integrated with an ERP solution, Saltbox offers innovative connections between systems and ways of accessing and using applications and data with both automation and human interactions in work flows through application builders and forms.
With the
Vision33 portals
, near-real-time integration with Shopify, Magento, and WooCommerce, and connections for Amazon and Facebook shops, an ERP solution is ideal for eCommerce. Whether it's for increasing sales or attracting new customers, ERP supports your sales efforts.
Through continuous updates to help manufacturers grow fast while maximizing profit, an ERP solution offers the critical features you seek.
With the right ERP solution, SMBs can:
Quote more accurately – Provide detailed quotes and efficiently manage employees, resources, and materials.
Stay on-time and on-schedule – Provide reliable delivery times by reducing lead times and optimising processes.
Reduce preproduction time – Start projects faster with improved planning, communications, and responsiveness to ever-changing requirements.
Adapt faster – Adapt quickly to change orders with transparent data-sharing to keep projects on schedule.
Improve customer satisfaction – Use advanced quality controls to ensure your customers are getting high-quality products.
Drive higher direct utilisation rates – Enhance machine and labour utilisation rates by improving efficiencies with fewer indirect labour hours.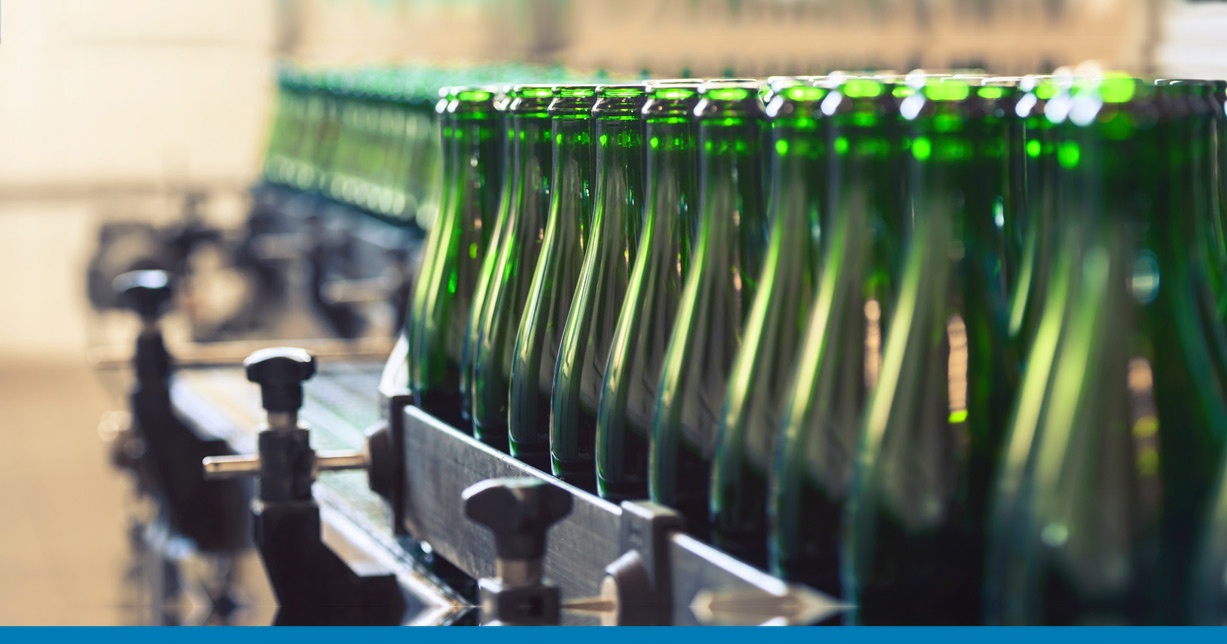 ERP System for the Manufacturing Industry Product Guide
For gaining agility and efficiency across your manufacturing business, you must optimise four operational components:
Bill of materials management
Inventory management
Traceability
Automation
Small and medium manufacturers that optimise all four components win more customers and produce more without adding excessive headcount. With an ERP solution, their company, customer, and supply chain data, work flows, and reporting reside in a central database to improve planning and execution of business strategies.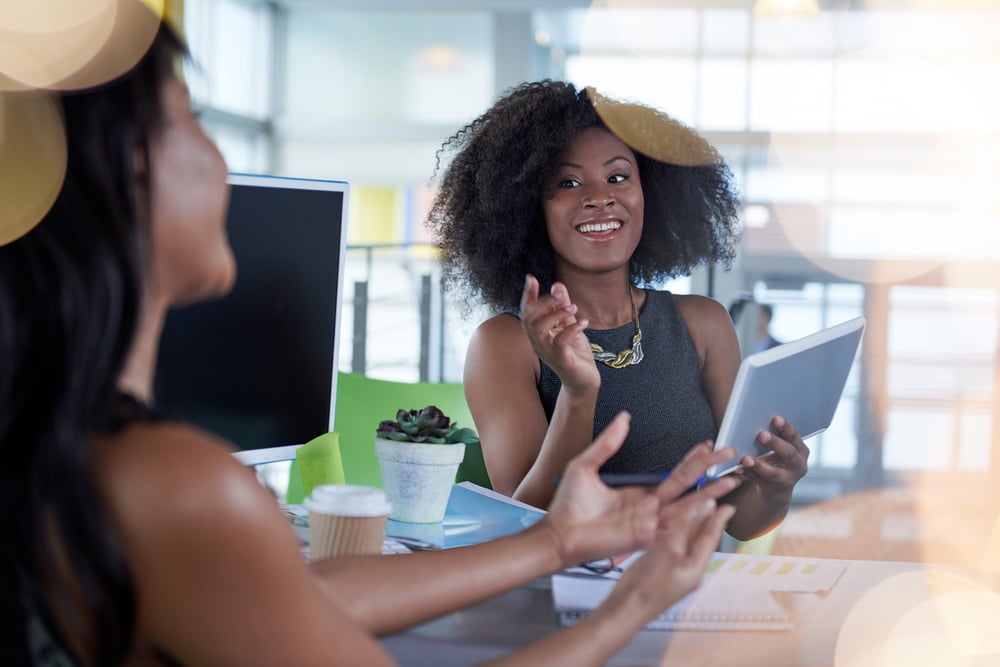 SMBs that don't use a true BOM when planning their operations are missing out on dramatic business process improvements. To appreciate how ERP can help your business thrive with better, more comprehensive information management, it helps to understand all the data an ERP-based BOM incorporates.
Why You Need Accurate BOMs
Regardless of what you manufacture or the BOM you use, an accurate and well-managed BOM increases your revenue by speeding product releases. It also lowers your product costs by eliminating errors throughout the manufacturing value chain of purchasing, warehousing, production planning, production, packaging, and delivery. Proper BOM management dramatically improves your bottom line.
Superior inventory management is critical to manufacturers' ability to meet their commitments. When you can see inventory in real-time and automate around perfectly timed replenishment, you no longer accidentally under stock or waste resources tied up in stock. Production runs smoothly while your customers enjoy consistently on-time deliveries.
Advance Adapters Exceeds Revenue Doubling
The complex products of Advance Adapters require detailed information-sharing with customers and prospects. The manufacturer switched to a powerful ERP solution and more than doubled its revenue by better managing its production lines and streamlining customer views and feedback around project-specific data.
If you're a discrete or process manufacturer (e.g., food and beverage, medical device, or auto parts), traceability is necessary for product and consumer safety. You must see forward and backward in your supply chain and identify where faulty ingredients/components originated, where they were incorporated into finished products/batches, and which customers received them.
During a recall, customers and regulators expect to see:
manufacturer identity
manufacturer address
ingredient/component names
ingredient/component suppliers
manufacturer's batch/lot number
customers' receiving data
transportation and distribution records
expiration dates (food and beverage, pharmaceuticals)
Attempting to track this information manually is overwhelming—and insufficient. That's why SMBs that use an ERP solution's traceability feature have a leg up on their competition.
Highlights of Traceability Using ERP
Understand and track a product's complete life cycle via batch and lot codes.
Track materials and products from procurement through production, sale, and delivery.
Enforce rules to ensure correct allocation of batch and lot codes.
Batch track raw materials or components and the units created as part of a production order.
Incorporate work flows that create product labels and prohibit products from moving further in the fulfilment cycle before label verifications occur.
Stay updated on the evolving rules and regulations governing product safety and quality checks.
The manufacturing industry is fast-paced. Automation helps you keep up by improving productivity, reducing costs associated with waste, and increasing agility. For example, with ERP, the system that contains your inventory data can automatically create BOMs. This eliminates the data silos made by disconnected systems and prevents inaccurate materials requirements, miscommunications, production bottlenecks, and shortages.
How to Become Data-Driven With a Single, Unified ERP System
Manufacturers often struggle to share information between systems. Read how an ERP solution's central database of product, operational, and business data automates and accelerates your manufacturing business.
Engine Manufacturer Eliminates Manual Processes to Focus on Growth
After implementing the right ERP solution, this business enjoys automated processes for accurately quoting customers, empowering salespeople, managing orders, and providing traceability from the warehouse through in-field service care.
For most small and medium manufacturers, ERP represents a massive step in their business evolution because it affects the entire business via unified data and work flows. Follow our six critical steps to maximise ERP's value and transform your manufacturing operations for maximum agility and efficiency.
We based these six steps on hundreds of successful first-time ERP implementations:
Assess your need for business management software
Understand the difference between ERP and accounting software
Assess your business's ERP readiness
Evaluate ERP software on the market
Select an ERP partner
Choose an ERP deployment option
Each step involves careful consideration, planning, and the participation of multiple stakeholders from your organisation. These six steps ensure proper selection, implementation, and use of your ERP software. We recommend starting with our comprehensive ERP software selection guide.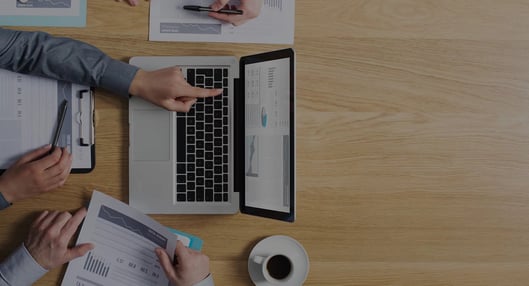 Tips for Making Your ERP Shortlist
Most ERP platforms are sold and serviced through value-added resellers or channel partners. Vision33 is one of the ERP reseller and consulting organisations for growing SME customers. After you've chosen your top three ERP solutions, consider your local partner's qualifications, as having a good partner is critical for success. Read this blog that outlines the qualities you should consider when choosing ERP software and a channel partner.
Read the Blog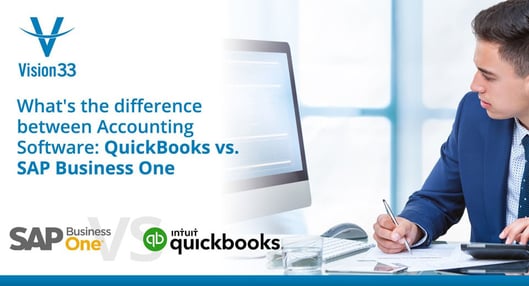 Review the ERP Software Selection Guide
Each step involves careful consideration, planning, and the participation of multiple stakeholders from different departments and levels of your organization. Following these six steps ensures proper selection, implementation, and use of your ERP software. We strongly recommend starting with this comprehensive guide.
Get the Guide
Growing SMEs perform better when their ERP systems provide company- and industry-specific features, functions, and work flows. However, many ERP solutions are off-the-shelf applications that can't be customised. Vision33 has expertise in planning and implementing ERP solutions to enable industry-specific processes that work how you work.
The right ERP solution offers customisations and add-ons that optimise value for discrete, process, and project manufacturing. Vision33 will customise your ERP solution to maximise your differentiators, speed operations, and increase efficiencies.
Saltbox is a cloud-native, low-code integration platform as a service (iPaaS) solution that empowers small and midsized companies to integrate disconnected business systems like ERP, CRM, and eCommerce.

By eliminating data silos and automating manual processes, Saltbox unlocks new levels of operational efficiency and cost savings.
Customer Portal gives customers a secure, flexible, and personalised self-service gateway to view their accounts in a standard web browser. It's a convenient way for your customers to make online payments and manage orders in an environment that builds your brand identity.
Employee Portal puts your employees in the driver's seat with a real-time, web-based solution that's seamlessly integrated with your ERP solution. Employee Portal is ideal for employees who don't need a named ERP user license but need to access its data. With real-time, on-demand data access, report viewing and modification, and user-level security, Employee Portal gives your staff cost-efficient and flexible tools to get their work done wherever they are.
An ERP solution incorporates multiple features that drive efficiency and position your company for profitable growth, and its key features deliver unsurpassed operational benefits. They include:
Project & Production Management
Stay on top of projects with real-time, cross-functional reporting, including manufacturing and logistics management, cost accounting, and controlling.
Materials Resource Planning
Leverage extensive material management features, such as order and stock-related production, mixed and variant production, and other production controls.
Pool Controls
Increase planning efficiency with pool controls defined by the volume of work.
Quality Control
Plan and execute quality tests during the material flow, from initial procurement through the manufacturing process.
Multiple Warehouse Management
Enhance inventory management with advanced warehouse and bin location tracking.
Cost Estimation
Prepare estimates for standard products and quotes for custom manufacturing orders and easily calculate profit margins.
Supply Chain & Sales Management
Manage sales and purchase orders, including blanket orders and automated transactions based on EDI industry standards.
Dashboards
Create custom dashboards to gain a 360-degree view of your business and enhance reporting with flexible ad-hoc queries and analyses.
Advanced Planning and Scheduling
View order times, lead times, transition periods, capacity allocations, bills of materials, batch groups, and resource availability.
Product Configuration
Manage product variants to configure, calculate, and integrate your product..
With over 400 employees throughout North America and Europe, the Vision33 team has unmatched experience delivering solutions and services to the manufacturing industry. Our Global Services group routinely helps SMBs expand into new geographies, making us the ideal implementation partner for growing businesses.
Post-implementation, Vision33 continues to deliver value through our industry-leading support program, TOTAL Care, and ongoing ideation and implementation services from our world-class consulting team. The team helps customers continuously innovate using the best industry-specific add-ons and integrations to support new business initiatives and evolving market demands.
ERP for Your Manufacturing Operations
We can deploy an ERP solution in any manufacturing operation, including: Job shop production, Batch manufacturing, Make-to-stock, Make-to-order, Mixed mode, Assembly and Repetitive.
Project Manufacturing
Vision33 has solutions that integrate with ERP solutions and offer unparalleled project management and budgeting functionality for companies in an engineer-to-order (ETO) or project-led manufacturing and delivery environment.
ERP for Project Manufacturing aligns every area of project management, including planning, budgeting, quoting and estimating, material and capacity planning, and time and material tracking. These industry-specific features are part of the core business management functions and join production, inventory, accounting, CRM, sales, and service management to provide an end-to-end tool for project-centric manufacturers and suppliers. Project manufacturers benefit from a flexible and tightly integrated project management process perfectly adapted to their needs.
Companies like Hydrafacial experience the same issues as you: multiple disconnected systems, no visibility, and an inability to access real-time information for decision-making. Operating a manufacturing business with these challenges stunts growth and prevents success. These companies recognised the need for an all-in-one solution to manage their operations and chose the right ERP solution to point their businesses in the right direction.
---

Listen to our podcast episode with customer John Wager of Saddleback about how ERP has helped him move forward to consider automation in other areas of his business, including AI.
Vision33's nine-point comparison guide makes it easy for you to learn more about how ERP solutions compare to small business accounting software.
For a comprehensive set of ERP resources, check out our experts' information kit. It provides an in-depth look at software and ERP solution briefs, videos, and demos designed to improve your operations.
Frequently Asked Questions (FAQs)
What types of manufacturing can SAP do?

SAP ERP solutions support discrete, process, made-to-stock, engineer-to-order, and made-to-order manufacturing.
How does SAP for manufacturing support production planning and scheduling?

SAP ERP solutions help manufacturers stay on top of projects with real-time, cross-functional reporting, including manufacturing and logistics management, cost accounting, and controlling.
How does SAP for manufacturing support quality control (QC)?

SAP ERP solutions empower users to plan and execute quality tests during the material flow, from initial procurement through the manufacturing process.
Is SAP for manufacturing easy to integrate with other business systems?

Yes. SAP ERP solutions are easy to integrate with other business applications using an integration platform as a service (iPaaS) solution.