About Sage Intacct

From Accounting Software to Sage Intacct

Difference Between Sage Intacct and Other Sage Solutions

Key Functionality

Integrations

Value for Customers

Values for CFOs

Industry Verticals

About Sage
Sage Intacct is a flexible, configurable accounting software solution built on a true cloud foundation. Its implementation offers robust technology infrastructure to any organisation, making it easy to share data and integrate with best-of-breed solutions (like Salesforce) without sky-high IT costs. With a fresh, modern user interface, Intacct is a powerful born-in-the-cloud financial management system that empowers your business to accelerate the path to success.
Built by financial professionals and for financial professionals, Intacct provides a depth of financial capabilities you won't find in a traditional, all-in-one software suite. Intacct is easily adapted to the way you do business — not the other way around. With Intacct, your financial team can be more insightful and productive which ultimately drives growth for your business. And as that growth continues, the flexible platform of Sage Intacct gives you the scalability you need to ensure your system keeps up and keeps everything on track.
Learn more with a live online webinar or product demo.

Gartner's 2019 Critical Capabilities Report awarded Sage Intacct the highest score in Core Financials for lower midsize enterprises. Sage Intacct's core financial capabilities include:
Accounts Payable - Streamline workflows across the AP cycle with exceptional speed and Salesforce, ADP efficiency
Accounts Receivable - Accelerate your cash cycle by automating the invoicing and collections process
Cash Management - Track multiple accounts with real-time visibility and easy reconciliations
General Ledger - Consolidate multiple entities, currencies, and geographies in minutes
Order Management - Automate complex, high-volume quote-to-cash cycles and improve profitability
Purchasing - Achieve speed, accuracy, and visibility with structured transactions and approvals
As your business grows, you need real-time information at your fingertips to make bold business decisions. Which projects should you bid on? What prices should you charge for your products and services? What resources do you need to meet client deadlines? Sage Intacct is the modern, project-centric accounting solution you need to automate your key processes and gain visibility into your entire operations.
Sage Intacct's project accounting capabilities allow your business to
Manage, analyze, and present your financial information the way you want
Simplify time and expense management, keeping your staff focused on customer service instead of administrative tasks
Track detailed project costing, enabling you to understand the true cost of projects, see emerging trends, and budget properly
Automate project billing with a flexible, customizable project billing process
Add, manage, and report on multi-entities, automate global consolidations, and gain business-wide financial and operational visibility
Make informed decisions with powerful analytics, taking advantage of new opportunities and making any necessary corrective actions
Sage Intacct untangles and automates subscriptions, specialized contracts, recurring billing services, and the complexities of GAAP-compliant revenue recognition. Enjoy automated workflows, smart revenue recognition, and seamless data flows that streamline the revenue cycle across your organization:
Contract and subscription - Automate pricing, billing, subscription models, revenue recognition, and more
Project costing and billing - Bid smarter and bill faster with less revenue leakage
Revenue recognition - Support ASC 606 and IFRS 15, automate complex revenue accounting, and more
Sage Intacct's budgeting and planning capabilities offer control, collaboration and security. You can be confident your team members are working on the latest version of your budget, and you'll know who updated it and when. The ability to create and save multiple scenarios within a single budget allows you to maintain total control of your processes.

End budgeting and planning spreadsheet headaches for good:
Invite department heads to build or edit their budgets
Present plan or budget options to management
Transfer sensitive data from spreadsheets and emails into a single, secure solution
Limit access to payroll data with user-level security
Easily model calculations, such as projected cash flow, sales, revenue recognition options and headcount expenses
Focus on strategic plans that exploit business opportunities and sidestep risks
Sage Intacct's built-in growth tools make it easy to integrate with applications like Salesforce, ADP and many more. In fact, many Sage Intacct customers have two or more integrations with other services. Open Application Programming Interfaces (APIs), Vision33's Saltbox Platform, and other SKDs make integrations simple and seamless. Our team of business analysts can push data to Sage Intacct and initiate integration actions from dashboards or application pages.

Scalability: As your business grows, Sage Intacct grows with you. A variety of flexible add-on modules allow you to keep the momentum going:
Fixed Assets – create an automated asset management system
Inventory Management – track, value and manage stock
Multi-Entity and Global Consolidations – manage complex financials for multiple locations and entities
Project Accounting – manage costs and revenue, keep projects on time, maintain profitability
Revenue Recognition – account for multiple revenue types such as subscriptions, licenses and services
Sales and Use Tax – automatically calculate sales tax and VAT with the built-in Avatax integration
Purchasing – achieve speed, accuracy and visibility with structured transactions and approvals
Spend Management – govern company purchasing vs. budgets and never exceed spending caps
Vendor Payment Services – power payments on American Express Global Commercial Services' platform
From Accounting Software to Sage Intacct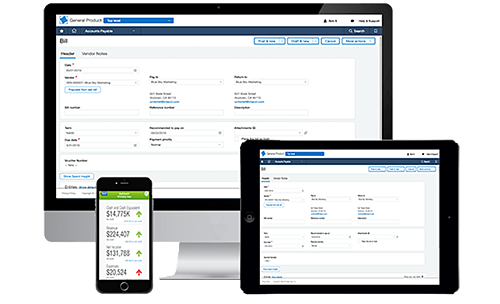 As the size, complexity, and pace of your business grow, the frustrations can multiply. That accounting system you relied on to manage finances and operations has, over time, gradually become a barrier to growth and efficiency. But in a highly competitive business climate, you can't afford spiraling overhead costs, functional limitations, and unnecessary risks.
Sage Intacct's cloud accounting software products and financial management solutions deliver accounting capabilities for multiple industries with a single aim: to accelerate your success.
Sage Intacct customers achieve an average 250% return on investment in six months or less:
Reduce time to close by up to 79%
See real-time reporting across hundreds of consolidated entities
Put finance leaders in a position to drive more growth
Sage Intacct's modular true cloud accounting solution meets your business needs today and gives you the flexibility to add functionality tomorrow. Innovation is in Sage's DNA, and industry analysts have named Sage Intacct a visionary and leader. They deliver four major releases each year, with an average of 50 new features per release.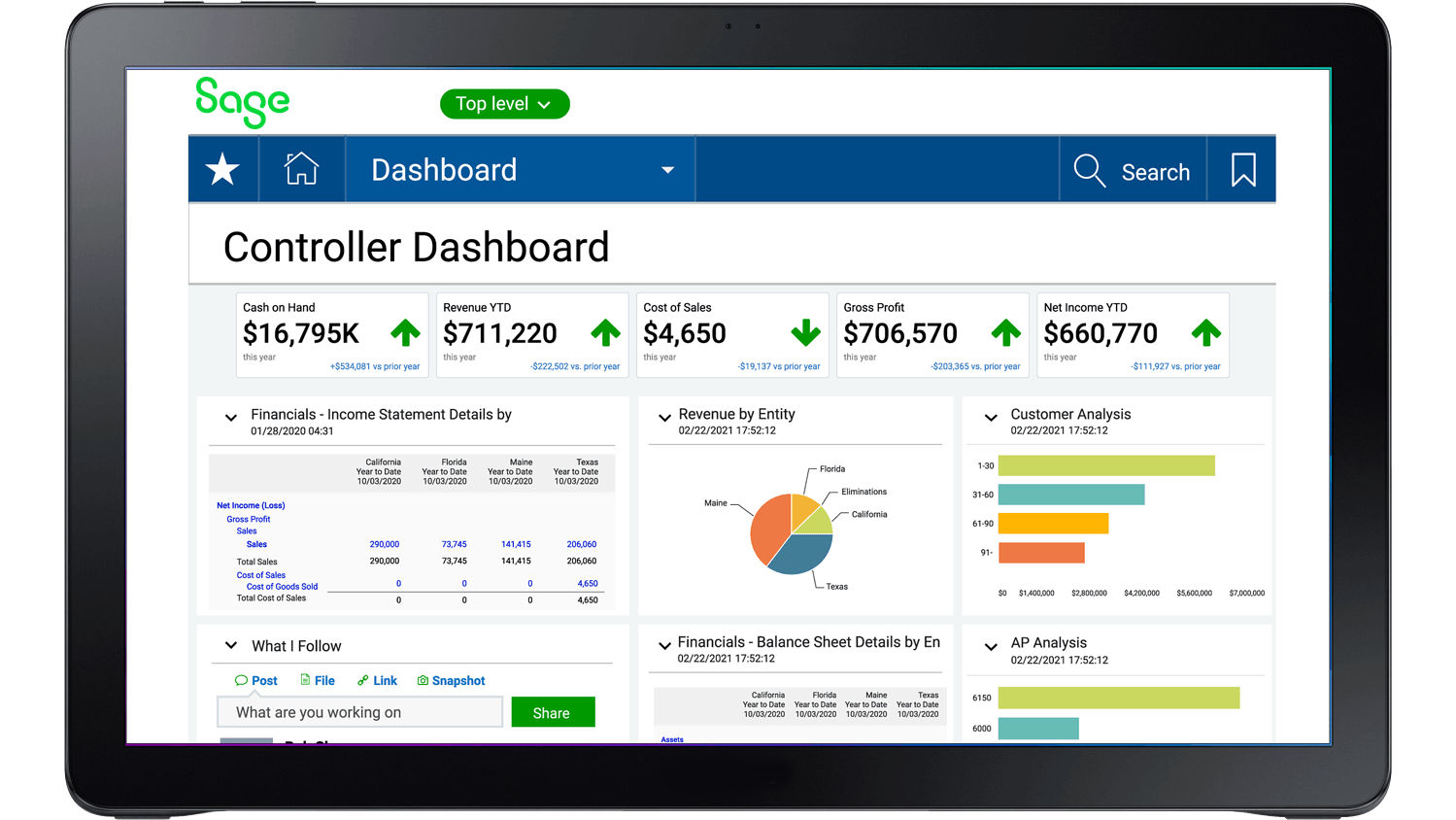 Click here and learn even more about the power and endless possibilities of Sage Intacct.
Are you currently using Sage 50 as your accounting solution? If so, click here to learn more about how easy it is to transition to Sage Intacct.
Differences Between Sage Intacct and Other Sage Solutions
You might already be familiar with other Sage solutions, like Sage 300, Sage CRM or Sage 50, and you might be wondering how Intacct is different.
Here are some of the ways Intacct offers unique advantages as part of the Sage family:
Unlike some cl

oud application

s that are adapted for the cloud, Intacct is

born-in-the-cloud

–

it's a truly next generation, best-of-breed accounting so

ftware solution

that's accessible anytime

,

anywhere

with

out the need for any

complex upgrades or additional

IT infrastructure

.

Faster and more robust financial reporting with the built-in report writer and

availability of accurate, real-time data

, enabling decision-making based on the best possible information.

Capacity for

complicated or advanced functionalities

related to inter-entity transactions, multi-currency consolidations, revenue recognition,

subscription

billing, proje

ct accounting, and more.
With Sage Intacct, your business (whether it's a service organization or supplies products) will have the advantages of a modern cloud accounting solution: lower costs, added security and endless productivity.
Sage Intacct's cloud accounting software streamlines vital financial management processes, reduces the need for spreadsheets, and gives you real-time visibility into your business' performance so you can make quick and sound decisions.
Automate invoices expenses,

payments

and other mission-critical transactions

Always be audit-ready

Enjoy

a lower TCO vs. traditional on-premises solutions

Leverage the world of open APIs to seamlessly integrate with other best-in-class cloud applications

Eliminate

hardware costs and IT management

Achieve peace of mind with world-class security,

backups

and disaster recovery

Access your information at any time, from anywhere, on any device
Sage Intacct provides robust tools to simplify and streamline billing, accounting, and reporting, automate workflows, analyze reliable data, and be prepared for growth.
Accounts Payable
Automate manual AP processes

Configure approvals process,

workflows

and internal controls with a few clicks

Strengthen the reliability of your data

Put your team's focus on

the bigger picture

Save thousands of hours per year
Accounts Receivable
Enjoy automatic processes, email invoices and multiple payment options

for customers

Connect with your CRM solution

for a single view of quotes, sales

orders

and invoices

Automatically post your order transactions to your general ledger and AR ledger

Automate collection notices for hassle-free collections

Make your AR team more efficient and get paid faster
Order Management
Save time and reduce errors

Enter

an order when

it's

first received and

let an automated flow do the rest




Integrate with your CRM to track information about your customers and customer interactions in one place

Get your sales and finance teams on the same page with valuable insight

Provide superior customer service
Cash Management
Access

all of

your

transactions from credit cards, checking and savings accounts in one place

Quickly g

et a complete and real-time view of your cash flow

Automatically reconcile

your checking,

savings

and credit card accounts – without spreadsheets

Spot

unusual

charges, manage bank errors,

catch fraudulent

charges

and maintain accurate cash balances

Save time so your staff can focus on more valuable tasks
Intuitive Dashboards
See a detailed overview of your operational and financial performance

Make fast, sound decisions based on real-time information

Choose how your data is displayed with key metrics from virtually any perspective

Digital Board Book for

Saas

Metrics

–

a specialized dashboard for

Saas

companies that aggregates all of the vital metrics for your board reports (

Committed Monthly Recurring Revenue, Annual or Monthly Recurring Revenue, Customer Acquisition Cost, Churn,

and Customer Lifetime Value)
Click here for a quick tour on the general navigation of Sage Intacct
Built-In Reporting
Effortlessly d

ive into your data and get valuable insight

Utilize

and edit

150 built-in reports

Create your own reports unique to your business and industry

Track and report on both financial and operational data

Include budgets in financial reports

Get an accurate view of performance and adjust goals and expectations accordingly
Additional Modules
If needed, Sage Intacct allows you to expand your solution beyond the number of included powerful features. As your business grows and your financial needs become more complex, meet all of your needs with these advanced financial capabilities:
Contract and Subscription Billing

Contract Revenue Management

Fixed Assets

Inventory Management

Project Accounting

Sales and Use Tax

Time and Expense Management

Vendor Payment Services
Collaboration Tools
Eliminate the ambiguity of

communicating back and forth through email

Utilize secure, embedded communication tools

to collaborate and quickly resolve issues

Hold conversations and

leave notes within the solution for a record of relevant information

Enable your team to work faster and more efficiently
Purchasing
Order what you

need, when

you need it and in the right quantities

Automate and streamline purchase requisitions, purchase orders and

sign-offs

Connect with

accounts payable, cash management and inventory

Eliminate redundant data entry

Customize dashboards

to provide your team with real-time information to make quick decisions
Sage Intacct provides a simple, native connection service to many related solutions, such as Avalara, ADP, and American Express. In fact, many Sage Intacct customers have two or more integrations with other services. Saltbox and other APIs make integrations simple and seamless.
Luckily, Sage Intacct provides a simple, native connection service to many related solutions, including Avalara, ADP, and American Express. Many Intacct customers have two or more integrations with other services, using The Saltbox Platform and other APIs to make those integrations simple and seamless.
Integration, the lifeblood of business agility and a competitive advantage in fast-evolving markets, should be accessible to every company. That's why Vision33, business technology, process, and integration experts, developed Saltbox.
Saltbox is a cloud-native, low-code integration platform as a service (iPaaS) solution that empowers small and midsized companies to integrate disconnected business systems like ERP, CRM, and eCommerce.

By eliminating data silos and automating manual processes, Saltbox unlocks new levels of operational efficiency and cost savings.

Powered by AWS, the Saltbox engine transforms data to ensure system compatibility and comply with user-defined workflow logic. Connectors seamlessly integrate Saltbox with anything—from modern cloud-native apps with REST APIs to legacy and proprietary applications and data warehouses.

Success Story: eDNAtec
Based in St. John's, Newfoundland and Labrador, eDNAtec uses advanced genomics technology to assess and monitor ocean health. The company generates environmental insights to support ocean-based industries and operates the world's first fully-dedicated research center for environmental genomics. As leaders in this emerging science and technology field, eDNAtec chose Sage Intacct because it was a cloud-based solution that offered scalability and streamlining capabilities.
Since going live on the Intacct platform, the time it takes for eDNAtec to complete routine tasks has decreased drastically. In addition, the timeframe for critical monthly reporting has decreased by two weeks.
"If I had known Intacct was so easy to implement, I would have done it soon after I started with the company. It would have meant valuable time savings from the gate and afforded enhanced reporting focused on priorities and growth opportunities."
Janis Swantee

, Accounting Operations Manager,

eDNAtec
A Sage survey of more than 500 U.S.-based CFOs revealed an increased demand for real-time data and digitizing the finance function.
CFOs are increasingly being asked to provide strategic business counsel. This means they can no longer remain laser-focused on the traditional role of running the daily business accounts because it leaves little time to view the bigger picture and make concrete decisions about a company's future.
With Intacct, CFOs have information at their fingertips to make quick decisions and have evolved into true strategists who base their outcomes on practical data. There is no room for intuition or guesswork—every business decision is backed by solid, data-driven reasoning.

Sage Intacct gives CFOs the information they need to excel at their jobs in today's financial world.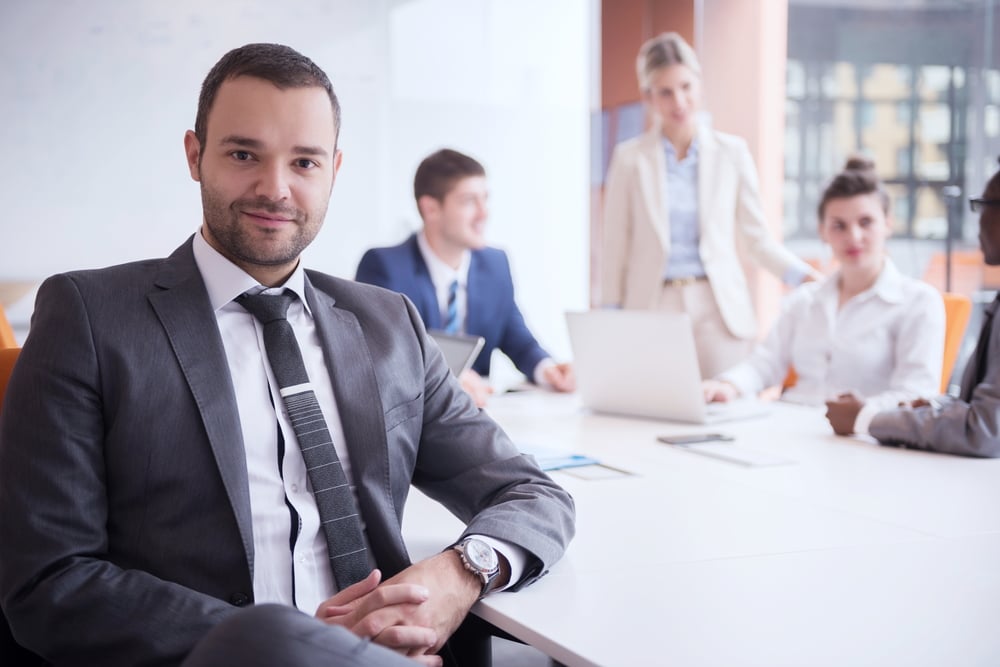 Professional Services
Professional Services: A recent survey of over 600 professional services organizations conducted by Service Performance Insight shed new light on performance expectations in various key areas. The businesses surveyed included IT consulting, management consulting, marketing, accounting, legal and additional types of service-based businesses. The identified key performance indicators (KPIs) can help businesses benchmark their financial data and identify where they need to focus as they continue to grow.
Cash Flow – Reissuing Invoices
Cash Flow – Billing Cycle
Cash Flow – Collections
Utilization
Write-offs
Project Profit
Click here o read more information about how Sage Intacct is driving growth for Professional Services companies like yours.
Financial Services
Financial Services: Sage Intacct has become the #1 accounting software for more than 670 financial services firms that collectively manage more than $1.3 trillion AUM. Top-performing finance leaders care for their assets under management through direct investments and real estate, add new legal entities in minutes, and make data-driven decisions based on consolidated, multi-entity financials.
Fast consolidations without tedious Excel tasks
Multi-dimensional reporting and data with real-time visibility
Cost management, internal control assignment, risk minimization
Click here to read more information about how Sage Intacct is driving growth for Financial Services firms like yours.
Technology and Software
SaaS Companies: Sage Intacct's SaaS metrics dashboards calculate CAC, CLTV, CMRR, Gross Churn, Customer Churn, and other vital KPIs. Subscription management software uniquely lets you tag unlimited dimensions on your journal entries to provide the calculations for real-time SaaS dashboards, enabling:
Early-stage firms to prove revenue models
Growth-stage firms to prove net renewal models
PE-funded firms to expand EBITDA
Founded in 1981, Sage is one of the largest enterprise software companies in the world. Over six million businesses in 20+ countries use Sage's enterprise resource planning (ERP), accounting, customer relationship management (CRM), inventory management, and human resource management software. After acquiring Intacct in 2017, Sage continues to lead the cloud financial management revolution.
Don't take our word for it, though—see how Sage customers rate their Intacct experiences in this report.
Still have questions? Click here to view our page of frequently asked questions or here to contact us.
Frequently Asked Questions (FAQs)
What's the difference between SAP and Sage?

SAP SE is a German multinational software company based in Walldorf, Baden-Württemberg. It develops enterprise software to manage business operations and customer relations.

The Sage Group plc, commonly known as Sage, is a British multinational enterprise software company based in Newcastle upon Tyne, England.
Does Sage Intacct support small and medium-sized businesses?

Yes. Sage Intacct is designed for CFOs and professional finance teams at small and mid-sized businesses who want a modern, powerful solution.
Is Sage accounting easy to use?

Yes. Built by finance for finance, Sage Intacct features a modern interface and easily adapts to how you do business.